Is it possible to pay GST using a credit card? The quick answer is yes! Individuals and businesses can pay GST online using debit or credit cards. In 2016, the government implemented the new indirect tax framework, making limits, refunds, and return filing online. You may pay with a credit or debit card and various other options, such as NEFT, RTGS, and others.
With the Goods and Services Tax implementation, traders, merchants, retailers, and industry have found it simpler to obtain the input tax credit. It has reduced administrative costs and eliminated double taxes. It transformed our country into a single market. You are not required to open an account with a government bank. You can transfer money if you have a private bank account.
With the growing popularity of the internet, paying taxes online has become simpler for taxpayers and administrators.
Do you want to learn more about GST registration, refunds, returns, and other compliance issues? Then, register for the GST Course.
A popular myth about the GST:
If you paid with a credit card, you'd be charged twice. The tax secretary's Twitter account stated that "a false narrative is spreading on social media." As a result, it is a total myth.
If you pay regularly, the GST will have no effect. The service tax is not included in your credit card payment. However, the corporation will charge you fees/penalties if you pay late.
Taxes on EMI Interest.
Many banks allow credit card payments to be converted into EMI alternatives for their clients. This allows the buyer to save money and pay it back in instalments later. However, since implementing GST, it has become critical for customers to understand how it affects EMI.
How much GST do we have to pay on credit card EMI?
Before the Goods and Services Tax, the service tax on a credit card was 15%, but it is now 18%.
The following are some credit card charges/fees:
Late payment penalties (When you do not pay before the due date)
Overlimit fees apply when you exceed the card's spending limit.
The annual charge is determined by the kind of card and bank used.
International currency fees are paid when you spend money in foreign marketplaces.
Banks charge the rest of the costs.
A comparison between the Goods and Services Tax and the Service Tax
See the following example to understand better:
| | | | |
| --- | --- | --- | --- |
| Details |  Amounts    | Service tax 15% |  GST 18%     |
| Loan Amount | 10000 | | |
| Interest Rate | 10% | | |
| EMI tenure | 6 months | | |
| Interest paid in 6 months | 532 | 79.8 | 95.76 |
| Processing Charges | 150 | 22.5 | 27 |
| Total | | 102.3 | 122.76 |
How can I pay Goods and Services Tax (GST) online?
Taxes can be paid online or in person. A challan must be generated before payment. It may be obtained by entering its portal or completing the GST return.
I've included step-by-step instructions for paying GST. Take the following actions. The payment procedure is the same for all taxpayers. When creating a challan in the form PMT- 06, you must select a manner of payment.
Note the Things given below while paying online.
Payment can be made with or without access to the company's portal. You are only permitted to pay from certain banks. You must choose a bank and submit payment. The computerised cash ledger is automatically updated. You must pay immediately if you produce a challan without logging in.
How to generate challan?
It may be produced with or without a portal login.
Step 1: Go to the GST Portal. You will be sent to the main page. On the home page, select Services > Payments > Create Challan.

Image Source: GST Tutorial
Step 2: On the Create Challan screen, input your GSTIN or another ID. Enter the captcha shown in the box. Click the "PROCEED" button to continue.

Step 3 -> The Purpose of the Challan Page.
Choose Monthly Payment for a quarterly return or any other payment method. Click the PROCEED button.
Choose between the 35% Challan or the Self-assessment Challan.
Step 4 -> The Challan Amount Details are presented automatically. The information is retrieved automatically, and taxpayers cannot alter or remove it. SELECT GENERATE 35% CHALLAN.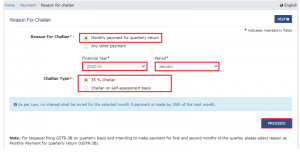 Image Source: GST Tutorial
Step 5 -> You are sent to the Create Challan Page page.
Check the deposit data on this page; the section is auto-fetched. To pay online, select E-Payment and then click Generate Challan.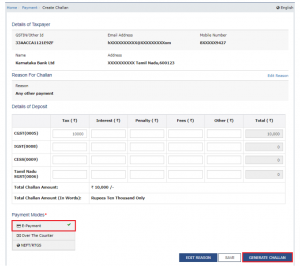 Image Credit: GST Tutorial
Step 6 -> You will be led to the payment method on this page. Choose the mode of credit/debit card. There is a list of ten banks in the payment category.
Axis Bank, HDFC Bank, IDBI Bank, Bank of Baroda, Punjab National Bank, UCO Bank, ICICI Bank, Indian Overseas Bank, and SBI are some of the banks in the country. Choose your bank and pay; you will receive a receipt with your CIN number.

Step 7 -> Re-enter your GSTN/other ID and click the Continue button. When your receipt is ready, click the download option.
Note: If you encounter any problems, please file a complaint using the form PMT – 07 on the GST portal.
The Top 10 Credit Cards
1.SBI Prime Card
Despite its high cost, it is widely used and popular.
Its yearly price is $2,999/- plus taxes, and it comes with a welcome gift of $3,000/-. A monthly income of $32,000 is necessary.
Features 
Contactless:-
It made daily purchases simple and secure. To transact, wave your card in front of a fast scanner. It is quick and easy. You don't have to give it up to swipe. This feature decreases the possibility of loss and fraud due to skimming.
It is widely acknowledged around the world. The unique future is that it covers fraud responsibility. You may withdraw money from any ATM in the world.
Benefits
You will get 10 points for every $100 spent on restaurants, movies, and groceries.

In addition, you will receive a Club Vistara Silver membership.

A year includes eight domestic lounge trips and eight overseas lounge visits.
2. Citi Cash-back Annual Fee: Rs.500
Minimum monthly salary: Rs.25,000
Top 2 cashback features
Convert large purchases into tiny payments
For example, a European vacation costs Rs.10,000 each month for 48 months.
Instant loan approval
Additional Benefits
Tap and pay with no contact.

Dining benefits – up to 20% off at selected restaurants.

Service for travel and lifestyle.
3.American Express
Annual charges: Rs.1000/-
Minimum monthly income required: Rs.40,000
It is well-known.
Features:-
Customers may buy now and pay later due to financial flexibility.

Platinum help is available 24 hours a day, seven days a week.

Manage from any location in the world.

Contactless: simply tap and no pin is required.

Covers responsibility and provides assured online fraud protection.
4.HDFC Regalia
Annual fees: Rs.2500/-
– Rs.90,000 per month
Benefits
Zomato gold membership for a year.

You will be granted priority pass membership.

Offers 1 point for every Rs.150 spent.
5. ACE Axis Bank
Axis Bank has released it in collaboration with Google Pay. It offers incentives for bill payments. The award is applied to the card's statement automatically. The joining fee is Rs.499/- plus taxes.
Rewards:-
When you pay your bills with Google Pay, you will receive 5% cash back.

Swiggy, Zomato, and Ola all offer 4% off.

2% return on additional purchases.
6.ICICI Platinum Chip Visa
PAYBACK points may be earned by spending $100.
There are no joining or yearly fees.
Provides a 15% discount at participating restaurants.
The benefit of Rs.12,263 when you spend Rs.4,000,000 every year
7.Baroda Bank
10 reward points/rupees hundred spent on international travel, eating, and shopping.
2 bonus points for additional spending.
There are no yearly fees.
You will be given an easy EMI option if your expenditure exceeds Rs.2500/-.
You can get an interest-free loan for up to 50 days from the date of purchase.
8. IDBI Royale Signature 
It is intended for people who demand the highest level of service. It's a one-stop shop for all indulgences. It bestows you with all of the advantages you deserve in life. It is now available with no admission costs.
9.YES, First Preference
It gives you unique benefits and prizes. It helps you save money by providing several perks. Your points may be used to purchase any items or services.
It includes medical insurance and coverage for aircraft accidents. The best aspect is getting a rapid EMI or a quick loan. However, to qualify for this benefit, your monthly net pay must be at least Rs. 2 lahks, or you must have a taxable income of Rs. 25 lahks. It is, however, available against a fixed deposit of Rs.3,00,00 and higher.
10. Kotak Essentia Platinum 
It is intended for savvy shoppers. You will earn points for necessary purchases.
It provides a 10% discount for food retailers.
10 points for every 100 dollars spent. One point for every $250 spent on other people.
All of the credit cards mentioned above offer the most excellent services. However, you must select one while keeping your budget, eligibility, and need in mind. Examine the terms and conditions before applying.
FAQs
Q1. How can I pay GST online?
You can pay your taxes online up to a limit of Rs.10,000. It can be paid over the counter in cash, check, or draught at the authorised bank. You must produce a challan at its portal to pay this. Then you go to the bank with two copies of the challan to deposit cash/cheque/draft, etc. One copy will be delivered to you, while the banks will hold the other as proof of receipt.
Q2. How can I alter my payment method?
You can change the payment mode before submitting the final form. However, it cannot be edited once the challan has been produced. You can cancel it and create a new one if you need to make adjustments.
Q3. What exactly is a CPIN? How long will it remain valid?
After logging onto the site and generating a challan, it generates a unique 14-digit ID known as the CPIN. It is only valid for seven days, after which the system will reject the CPIN.
Q4. How do you know if you paid successfully or not?
You are assigned a unique 17-digit CIN number and a three-digit bank code when you pay taxes. CIN shows that you have successfully paid. You can also double-check your assertion.
Q5. Is it possible to pay Goods and Services Tax online at any time?
Yes. Its service is provided 24 hours a day, seven days a week.

Note:

If you pay between 8 a.m. and 8 p.m., it counts on the same day. However, after 8 p.m., it will be taken the next day.
Q6: Is there a time limit?
If you pay online, it should be done right away.
Conclusion
As a result, the answer to the question, Can GST be paid with a Credit Card is unequivocal yes. Even if you may pay taxes in any manner, paying taxes online, especially with credit cards, is more convenient, hassle-free, and straightforward. However, you must be cautious about hackers. Never give someone your financial information. Enjoy all of the advantages and cashback incentives.