Most firms nowadays want experts that can offer value to the organization, individuals with a dynamic approach and a specialized skill set. A B. Com degree or studying Commerce in twelfth grade may not help you stand out in a crowd. However, by taking specific short-term courses, you may make an impact on potential employers.
Short-term programs on your resume can assist prospective employers in determining your willingness to study and develop your skill set. You can find all the information concerning short-term Commerce courses following the twelfth standard or a degree here.
What are Commerce short-term courses?
Thus you can enroll in and complete short-term courses in Commerce part-time. Eventually, Short-term courses are designed to rapidly and efficiently teach you relevant skills. It has previously been challenging to put such training into effect. However, enrolling and acquiring a new skill set with the Internet is much easier.
But why are online, short-term courses in Commerce becoming so popular?
Learning from the comfort of your own home:
These courses do not require you to be in a physical classroom. Thus you will need a PC with an internet connection. Because of the flexibility of short-term online courses, you may learn quickly and leisurely.
Traditional classroom learning gets increasingly difficult as you get older. However, taking an online class significantly simplifies this task. Hence Attending lessons does not need you to be ashamed or bashful. Thus you may embrace technology and the benefits of courses with no age restrictions.
However, Short-term courses allow you to learn new skills fast and efficiently. Hence, as a result, you may continue your education without delay.
 Thus they are less expensive than full-time courses and provide high-quality training, allowing one to keep ahead of the competition.

However Short-term courses allow you to enhance your knowledge at your own pace as a student or a working professional. Thus these courses provide flexibility without interfering with your study/work/life balance.
Short-term educational programs can give you a competitive advantage while helping you develop your personality. Working professionals will find it especially beneficial when they are stalled in their careers and are unsure of their future steps.
Numerous high-paying positions are available in the labor market, but you must have the necessary skills to obtain them. Certainly, all businesses are searching for qualified employees to fill various technical positions. Short-term courses with high-paying talents can help you fast attain financial independence.
Thus the need for such abilities is high, but the labor supply is limited. Taking job-related classes can assist you in mastering these abilities. Hence Short-term courses equip you to grab opportunities as they arise.
You can put your knowledge to the test on actual projects while taking short-term professional courses at a reputable and trusted institute. Hence Testing your knowledge in real-world tasks can help you determine where you stand and your deficiencies. Thus Job-oriented courses often include several projects in which you may demonstrate your competence. Hence the ongoing assistance of a mentor also allows you to achieve rapid development.
Unlock More Opportunities
When you learn new talents, you expand your professional prospects. You can now apply to industries where you previously could not. Short-term courses can help you gain the necessary knowledge to enter new fields. Hence Short-term training would be advantageous if you want to change occupations or work in a rapidly developing field.
Hence we shall now proceed, taking into account your preferences. These short-term Commerce courses can significantly impact while looking for a career after graduation. Even if you want to continue your education after graduation, these courses will be highly beneficial. Finally, these courses are also offered to students in other streams, so there is no need to be concerned about the breadth of these courses. Hence Go ahead and go at the specifics now:
Short-term courses in Commerce:
Hence after completing your 12th Commerce or B.Com, you have infinite courses. These short-term courses are job-oriented and may also help you learn skills that will benefit you greatly. Thus Check out the options offered below.
1)Certification in Business Accounting and Taxation
Certification in Business Accounting and Taxation is Commerce's most popular short-term course. Hence B.Com entails a lot of accounting and the techniques involved. Hence you can take a short accounting course to continue in the same field. Also, Accounting and taxation qualifications are widely accessible. Thus some of these certificates include foreign accounting standards as well.
Hence you can enroll in one of these programs to continue in the same sector and improve your accounting skills. Thus these courses will make a significant difference in your life. However, several accounting certification course types are available, and you may select what is appropriate for your job goals.
Certification in Business Accounting and Taxation will last:
Eligibility for the Business Accounting and Taxation Certification:
Graduation in Commerce or related fields from recognized and reputed universities

Hence Basic working understanding of computers.

Essential written and communication skills
Job opportunities after a certificate in Business Accounting and Taxation:
Auditing Assistant

Tax Assistant

Accounting Assistant

Tax Accountant

Finance Accounting Executive etc
Top institutes offering a Business Accounting and Taxation Course:
EduPristine

National Institute of Financial Markets

National Institute of Marketing and Business Studies

APG Learning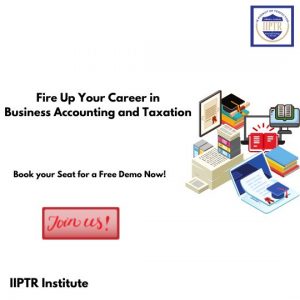 2)GST certification:
The second choice on our list of short-term Commerce courses is GST certification. Thus implementing GST has created many chances for every commerce graduate and financial expert. Following a degree in Commerce, you only need GST knowledge and certification as a springboard to a profitable profession.
All sectors and enterprises keep books of accounts and pay taxes. As a result, there is an increased need for chartered accountants, accounts executives, and accounts managers. Thus, the Goods and Services Tax implementation has created approximately 1.3 million employment for tax experts, accountants, and management consultants.
Hence there is a high need, particularly for e-accountants who comprehend GST. Accounting software and technologies are already familiar to e-accountants. Thus you can work in GST compliance, litigation, consulting, or even write or teach about GST if you have GST certification and accounting skills. However, there are several job options. Thus Relevant job descriptions include accounts executives, senior accountants, e-accountant, accounts managers, e-filing specialists, tax advocates, tax professionals, and tax consultants.
Duration of a GST course: 
Six months to one year (May vary according to the institute)
GST certification eligibility:
Thus A graduate in commerce, finance, banking, law, or accounting

Graduates of company secretaries and other professions are also eligible to enroll in the

GST online course.

Hence with the new tax reforms, existing accounting professionals can revise and upskill.

Thus existing professionals are seeking a career change from finance to taxes.

Working with finance specialists such as CS/CA/CMA and legal professionals who manage taxation.

Thus CEO, CFO, business leaders, people in business, SMEs, traders, tax directors, finance directors, and income tax practitioners are all examples of tax professionals.

Hence Individuals in accounting want to create a consultancy/agency to assist consumers with GST filing.
Job opportunities after a certificate in GST:
Taxation Manager

Taxation Research Analyst

Reconciliations

GST Compliance Practice

GST Consultancy Practice

GST Legal practice

GST Department

GST Trainer
Top institutes providing Certification courses in GST:
Institute of Chartered Accountants of India

Institute of Cost Accountants of India

Udemy

Tax Guru

Indian Institute of Skill Development Training

Central Board of Indirect Taxes and Customs

The Institute of Company Secretaries of India

CFO Next

Clear Tax

CAclubindia

National Institute of Financial Markets
3)Digital Marketing Certificate Program:
Digital Marketing is a popular and emerging job option, following Commerce on our list of short-term courses. Eventually Digital marketing is promoting goods and services using the Internet. Thus it is frequently referred to as internet marketing. Hence Digital marketing requires just PCs, cellphones, and similar devices.
Thus the current period and epidemic have made it critical for businesses to utilize the Internet to attract new clients. This effect will likely last indefinitely, as customers have found it more convenient to undertake numerous daily tasks online. As a result, the internet reach of businesses has increased.
Candidates master the principles of digital marketing in short-term Digital Marketing courses. Hence it is regarded as one of the most appropriate short-term courses for Commerce students. Thus the training syllabus includes email marketing, marketing foundations, and search engine optimization.
Duration of Digital marketing course:
Eligibility for Digital Marketing Course:
Also, get a Graduation in any field from a government-recognized institute

Digital Marketing Manager

Search Engine Optimization Executive

Social Media Marketing Expert

Content Marketing Manager

Copy Writer

Search Engine Specialist

Inbound Marketing Manager

Conversion Rate Optimizer
Top institutes and platforms offering Digital Marketing Courses:
Google Digital Garage

Simplilearn

HubSpot Academy

Excel

Coursera

IIDE

IntelliPaat

Digital Marketing Institute

Udacity
4)Certificate in Banking & Financial Services:
Many B.Com graduates choose to work in the banking business. This is a refuge for B.Com graduates because the employees are related to their disciplines. Furthermore, employment in the banking business is very incentive-driven, which you may take advantage of.
Enroll in a banking and financial services certification course if you want to work in the private banking industry but need help getting interviews. Thus these courses will provide the knowledge required to work in the banking business. Furthermore, these courses will introduce you to the wide-umbrella banking strategy, rarely taught in universities.
Thus, the Banking certification program has two formats: online and offline. Banks typically provide these certificates. Short-term Commerce courses, particularly those connected to banking, are becoming increasingly popular among students.
Thus Students in the banking certificate program study the principles of business statistics, data analysis, and tax regimes. These courses are not challenging, but they are highly learning-oriented, and students may complete them in a short amount of time.
Duration of a Banking Course:
Eligibility for certification in Banking and Financial services
Thus Candidates should have completed their 10+2 from a well-known board.

Hence Degree (in any discipline) from a reputed university

MBA or MSc
Job opportunities after certification in Banking and Financial services
Bank Manager

Financial Accountant

Certified Public Accountant (CPA)

Investment Banker

Equity Analyst

Financial Risk Manager

Asset Manager

Financial Risk Manager

Business Analyst

Internal Auditor

Foreign Exchange Trader

Credit Analyst

Loan Officer

Bank Teller

Financial Manager

Financial Service Representatives

Book-Keeper

Audit Clerks
Top institutes offering certification in Banking and Financial services
Texila

NIIT

EduBridge

BSI

Symbiosis Centre for Distance Learning

WeSchool 

Udemy

NMIMS Global

IPE India

New Delhi YMCA

Koenig

Coursera

CRISIL

Jaro Education
5)Certificate in E-commerce:
 E-commerce is a rapidly growing industry throughout the world. However, many Indian businesses are shifting away from brick-and-mortar stores to Internet stores. Thus in this context, firms are eager to recruit graduates with knowledge of the e-commerce industry.
Hence after Commerce, you can pursue an e-commerce certificate program. It will help you get ahead when applying for jobs in the e-commerce industry. This will also offer you an advantage when applying to organizations in change. Thus the subject is appealing, and an e-commerce degree program may make you very employable.
Duration of certification in E-Commerce:
Eligibility for a certification program in E-Commerce
Graduation degree in Commerce stream from a reputed institute
Jobs after certification in E-Commerce:
E-Business Consultant

Customer Relation Manager

Business Analyst

Supply Chain Manager

Project Manager

Database Administrator

Supply Chain Manager

E-commerce Consultant

Advertising and Promotion Manager

Business analyst

Website development

Finance manager
Top institutes and platforms offering certification in E-Commerce:
Indian Institute of Digital Education

Coursera

E-Marketing Institute

Alison

Udemy

Indian Institute of E-Commerce

HubSpot Academy

University of Toronto

VSkills

Digital Marketer

Academic courses

Digital Marketing Institute

Lasell University

Droom Academy

Thakur College of Science and Commerce

British Columbia Institute of Technology
6)Financial Modeling Certificate
Financial modeling is a field that has exploded in popularity in recent years. Hence management hires graduates to aid them in establishing various economic models. Thus there are many short-term financial modeling courses in Commerce, and you may take one.
Thus they cover the distinguishing features of the various financial modeling courses. Others are interested in derivatives, while others are concerned with the money market and capital.
Thus if you pursue a certificate degree in financial modeling, you may continue in the same field and improve your chances of landing a job. You can conduct financial modeling without prior coding skills; thus, you don't need to know a coding language.
Eligibility for a certification program in Financial Modelling:
10+2 or Graduation from a reputed institute
Jobs after certification in Financial Modelling:
Investment Banking Analyst or Associate

Equity Research Analyst

Financial Analysts, Managers, and Directors

Stock Market & Personal Finance

Credit Analyst

Corporate Finance
Top institutes and platforms offering certification in Financial Modelling:
 NSE

Ernst & Young

Corporate Finance Institute

Pro School Online

Financial Modelling Institute

Coursera

Udemy

EduPristine

Wall Street Prep

Financial Edge
7)Office Management Certificate
Many B.Com students choose to work in administration. As a result, the following item on our list of Commerce short-term courses is certification in office administration. You will face a high learning curve when you start working in office administration. Hence you may learn the fundamentals of office administration via practice.
This certificate course will also help you improve your MS Excel abilities, which are required for office management professions. On the other hand, a Certificate in Office Management may be of little use if you intend to start your own business. Thus this certification course is designed for people who want to work in administration in the service industry.
Duration for a certification program in Office Management
Eligibility for a certification program in the Office Management
Class 10th or 12th from a recognized board.
Jobs after certification in E-Commerce:
Marketing Assistant

Office Manager

Front Office Executive

Contract Labour Management.

Contract Labour Act.

HR Assistance.

Employee Relations.

Human Resource Assistant

Statutory Compliance.

Time Office Management.
Top institutes and platforms offering certification in E-Commerce:
Indian Institute of Skill Development Training

Udemy

Alison

Oxford Home Study Centre

Bharat Computer Center

MyTectra

Algonquin college

Casper College
8)Certificate in Rural Development
Eventually, many companies concentrate on rural markets, generating a need for students familiar with the rural sector. As a result, the following short-term course in Commerce is a certification in Rural Development.
Thus you can pursue a rural development certification if you have a Commerce degree and are interested in rural marketing or market development. Thus this course will give you the knowledge you need to work in the rural sector. Hence FMCG firms in India will benefit from this certification training. The work also allows you to go to rural areas, the dream employment for many kids.
Duration for a certification program in Rural development:
Eligibility for a certification program in Rural Development:
10+2 in any stream like Arts, Science, or Commerce with a minimum needed percentage 

Thus  Degree in Arts, Science, or Commerce with minimum work experience
Jobs after certification in Rural Development:
Research Officer

Rural Executives

Rural Manager

Senior Program Officer

Trainer

Researcher

Consultant

Project Co-ordinator/Project

Rural Minister
Top institutes and platforms offering certification in Rural Development:
Center for Development Studies and Activities

Indira Gandhi National Open University

University of Mysore

Tata Institute of Social Sciences

Mumbai University

Banglore University

Sri Venkateshwara Tirupathi University

Ranchi University

Kalyani University

Annamalai University

Mahatma Gandhi Kashi Vidyapeeth

Acharya Nagarjuna University
Frequently Asked Questions:
1)Which are the best short-term courses in Commerce?
Hence after graduation, you can study a variety of short-term Commerce courses. Thus the majority of the educational programs we've mentioned are career-oriented. Therefore, these programs are designed to allow you to deal with the industry's day-to-day issues. Here is a list of some of the short-term programs available following BCom:
Also get a Certificate course in Digital Marketing

Certificate in Banking & Financial Services

Certificate in E-commerce

Certificate in Financial Modelling

Certificate in Office Management

Certificate in Rural Development etc
2) What are some high-paying jobs in Commerce?
Commerce students want a career that is both socially and professionally gratifying, as well as one that pays well and allows them to live comfortably. The following are some of the highest-paying occupations for Commerce students:
Chartered Accountant (CA)

Marketing Manager

Investment Banker

Human Resource Manager

Chartered Financial Analyst (CFA)

Certified Public Accountant (CPA)

Actuary

Cost Accountant

Business Accountant and Taxation

Retail Manager

Company Secretary

Personal Financial Advisor

Research Analyst

Entrepreneur

Chief Executive Officer (CEO)
3)Is MBA a good option after BCom?
Thus an MBA or PGDM program from a top business school opens the door to many job prospects. MBA programs include specialities in areas such as human resources, marketing, and finance. Choosing a discipline MBA following a Commerce degree can lead to career prospects in Sales, Marketing, Human Resources, Operations, Analytics, and many other fields.
Conclusion:
However, we have discussed some of the top short-term courses available after completing a B.Com. Thus after finishing these courses, you can decide to work for an organization or freelance—best wishes for your career.